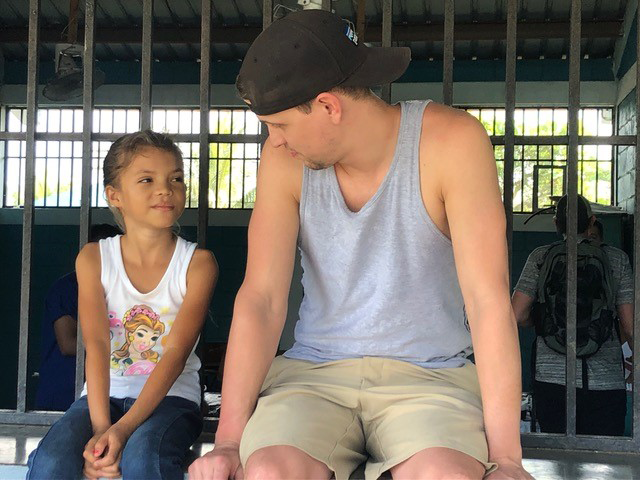 Before this trip, I'd heard a lot from others that the pharmacy we set up can get kind of wild and overwhelming – but it was PERFECTLYWHELMING to me today. Not overwhelming, not underwhelming, just enough whelming. I loved getting to talk to all the ninos y ninas that came through, and got to use my Spanish a lot when trying to communicate what the medicines were for, and the dosings.
Handing out medicine, and talking about dosing etc is great, but that is the WHAT. The WHY we are doing what we're doing is much better than any medicine we could ever prescribe – and that's because we want to show the love of Jesus to people, and want them, as his children (and our brothers and sisters), to feel cared for and valued. It was so fun to get to make eye contact with people, shake their hands, side hug them, teach little children how to give knuckles, and talk in HORRIFICALLY EMBARRASSING SPANISH to folks today, and do so with His love.
There was one specific little girl today who I don't think I'll soon forget. Her name was Juliet. Because of my educational deficiencies in espanol (amongst other things), communication can be QUITE challenging – especially with an 8 year old. But Juliet was different. Juliet, at only 8 years old, was patient, curious, and even creative in rewording her lightning fast espanol in hopes that her new gringo amigo Taylor may pick up on a new word or two. Juliet and I talked about almost all of the Spanish topics I'm equipped to handle – and a few that I'm not : family, fruit, sports, amigos, y home.
We hand been communicating (half verbally half non) for about 20 minutes, when she asked me what my tattoos were for. After she asked, I realized why she had been running her hand down the back of my right arm for a little while. I pointed to the tattoo on my left ring finger and told her that one was por mi esposa. I then showed her my other 3 and said they were for Jesus. She smiled really big, and told me that she liked the name Jesus. She was only 8, and I'm only a 1-1/2 language speaking gringo, so communication was challenging – but this was all without a translator. We did eventually grab someone who was bilingual and he translated and told me that her and her family used to go to church in San Pedro, but the church people there were too fancy, and asked them not to come back. I gently reminded her that a lot of times, "church people" make Jesus look bad – really bad. She laughed and smiled. I reminded her that Jesus loved her, she smiled and we hugged.
Does Juliet know Jesus Christ personally? Maybe, maybe not. Did she and I pray together for her to receive Christ? Nope. Thats not what this story is about. This conversation really impacted me in reminding me that as a "church person" my words, thoughts, actions, and attitudes – even at my worst – are interpreted as those of Jesus. I paused and reread that sentence and almost wanted to delete it because of the shame I feel.
Our words matter. Our thoughts matter. Our actions matter. Our attitudes matter
-Taylor Lewis